IT and office Equipment Cleaning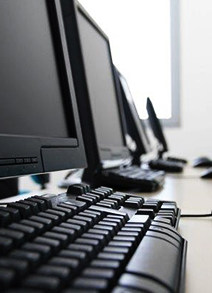 From computers to water coolers; if it's got a plug on it we'll clean it for you – correctly and carefully.
We have years of experience cleaning items of IT equipment, as well as other equipment found in a typical office.
The list is long – computers, screens, printers, scanners, disk drives and other peripherals, telephones, photocopiers, water coolers, electric fans, coffee machines and even the humble electric kettle. Regular kettle de-scaling is something several clients have requested – one of those small details that makes life in the workplace more pleasant.
Cleaning computer rooms, personal computers and peripheral equipment is a specialised task that we only entrust to experienced staff. We take extra care when selecting staff for work that involves cleaning computers. Thorough training and monitoring ensures that they carry out the work safely and without damaging the equipment.
All the materials and methods we use in the cleaning process are fully approved and have been extensively tested on a wide range of desktop PC's, network stations, file servers and printers for effectiveness, safety and anti-static properties.
Our management staff will liaise with you to make sure any special requirements you have regarding these sensitive cleaning tasks are addressed before the cleaning programme starts, and that our staff understand exactly what they must (and must not) do.