Post Build / Refurbishment Clean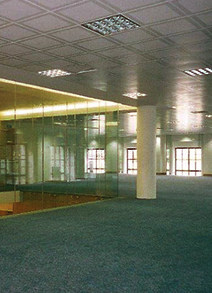 When you've had the builders in, things can get a little topsy-turvy. Deep Kleen will make it 'business as usual' in no time.
Our mix of experience, care and attention to detail, combined with our understanding of the building industry, allows us to offer a particularly high standard of post-build cleans. We'll work closely with you and your project manager to fully appreciate your needs and expectations before devising an effective plan to get the job done.
Dirt, dust, bags of rubbish, packing materials, offcuts, nails, broken glass, scuffs, footprints, sticky patches, stains, smeared windows, mysterious pools of liquid – the possibilities are endless. What's needed is a team of experienced cleaners to blitz the place. The results will amaze you.
During on-site refurbishments we can maintain your offices to a standard that enables your staff to continue working. Once building works are complete, we undertake a thorough clean of all furniture, work surfaces, IT equipment, windows, carpets, upholstery and any areas affected by the works.
Our cleaning service teams also work very closely with architects and designers. We are able to consult with the design team and offer practical advice on cleaning methods and solutions, as well as acting as another level of snagging checks.
We are very aware of the hard work and dedication that goes into every project. We see a thorough clean by our team of experts as the finishing touch. No surface is overlooked and all furniture, fixtures and fittings are left in immaculate condition.
Our expertise also extends to the house building market, where we have a number of prestigious clients. It's vital that their new or refurbished properties are presented to potential buyers in immaculate condition. Our teams know exactly what is required and work to the highest standards. No detail is too small.